Govt. working on a proposal to increase iron ore output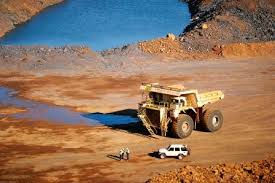 Government is working on a proposal for encouraging companies to increase iron ore output. It is doing so by benchmarking the mining capacity and linking it with royalty payment.
At present, if a company has a mine with 10 million tonnes (mt) capacity but is extracting only four mt, it pays royalty on the latter amount. With the new proposal, the government would fix an output floor. Internationally, this is 80-85 per cent of the total capacity.
According to a senior official, the proposal would be ready after consultations between the steel and mines ministries. The official did not elaborate whether the benchmarking would be done in line with global standards or the government would work out its own model.
The government feels mining companies aren't producing enough ore, which has led to higher prices of the raw material for the steel industry. Some steel companies had also alleged that mining firms were keeping their activity slow in order to artificially raise the prices.
According to a report by Macquarie Research, iron ore production saw 23 per cent growth in 2016-17 over a year before, at 190 mt.
It forecasts production to grow to 206 mt, up eight per cent, this year. With declining export, it expects a domestic surplus of 18 mt in FY18, adding to the surplus of 14 mt in FY17.
The market for low-grade ore is getting tougher, as most steel mills are focusing on higher grades, to increase productivity.
Chinese steel consumption has been higher than expected and prevailing steel prices provide for respectable profit margins to these mills, Macquarie said.
Since the mining ban was lifted in India in 2015, extractor companies here have gradually raised the output of low-grade ore, it said.
International prices had gone up to as high as $80 a tonne in November 2016 and that supported the Goan mining industry.
Indian miners' cost of delivery to China is a little less than $30 a tonne. Macquarie expects this cost to reduce further.
The ore industry argues that as the price of steel is completely market driven and unregulated, iron ore prices should be determined the same way.
Source –business-standard