Birla Corp plans new Rs 2,400-crore cement unit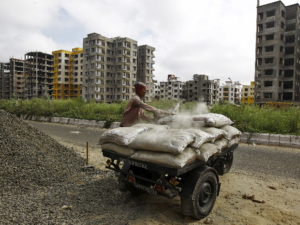 The investment envisaged is Rs 2,400 crore; the land has been acquired. "This will be built in phases and be funded from both internal accrual and debt," Chairman Harsh V Lodha said on the sidelines of its annual general meeting here.
Lodha aims at expanding of production in the west-central parts of the country. He expects more demand in cement to come from this area. Currently, the eastern region is seeing the highest rise in demand and many companies — JSW, Emami, Shree Cement — are setting up new capacity. Birla Corp views the central zone, which spans eastern Maharashtra, Madhya Pradesh-Chhattisgarh and Uttar Pradesh, as major cement consumers in the long run, Lodha said.
An increase of 38 per cent and 23 per cent in the government's fund allocation in its annual Budget for the housing and roads sectors, respectively, to Rs 23,000 crore and Rs 64,900 crore, is expected to boost cement uptake.
The road sector's budgetary allocation would translate into close to a Rs 20,000 crore  opportunity for the sector, the company feels.
Lodha says cement was mostly used for local consumption, on account of huge freight costs and differential state taxes. "The new GST (goods and services tax) regime provides us an opportunity to expand into new markets from our existing plants," he said.
It will also put Rs 120-130 crore in the units it acquired last August from Reliance Cement, for projects to generate captive power.
These plants, which cost the company Rs 2,400, beside taking on Rs 1,000 crore in debt, need 45 Mw of electricity to continue production. The new project will help Birla Corporation to cater to 27 per cent of its power requirements; the rest will be bought.
Source-thehindu