Coal India to incur Rs 8,500 cr capital expenditure in 2017-18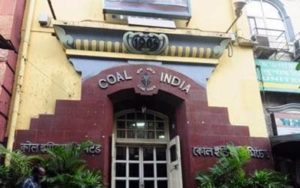 Coal India Ltd (CIL), which produces 84 per cent of the country's total output of the mineral, has planned to invest Rs 8,500 crore as capital expenditure in 2017-18, its latest annual report said.
"The capital expenditure for the year 2017-18 has been set at Rs 8,500 crore," the miner said in its annual report.
Overall capital expenditure during last fiscal was Rs 7,700.06 crore as against Rs 6,123.03 crore in the previous year.
The miner has planned to invest Rs 6,500 crore in various projects — Super Critical Thermal Power Plant (STPP), solar power, revival of fertiliser plants, coal gasification, acquisition of coal blocks in India and abroad, and CBM (coal bed methane) etc during 2017-18, the report said.
In the current fiscal, the target of coal production has been pegged at 600 million tonnes (mt) with an annual growth of about 8.3 per cent over the achievement of last year. In 2018-19, the envisaged coal production projection is 773.70 mt with a growth of about 28.95 per cent.
CIL has envisaged a coal production of 908.10 mt in 2019- 20 with a CAGR (compound annual growth rate) of 12.98 per cent with respect to 2014-15.
During 2016-17, the miner produced 554.14 mt, up by 15.39 mt over last year. The overall system capacity utilisation for the year 2016-17 was 84.51 per cent down from 99.87 per cent during 2015-16.
"Necessary action has already been taken for improvement in capacity utilization in 2017-18 in all the subsidiaries of the company," it said.
Company's Chairman Suthirtha Bhattacharya said the miner was faced with meeting challenging targets in the years ahead.
"Going forward in order to meet the production targets, Coal India needs to step up to a double digit growth rate. To sustain the growth momentum in its production and off-take in future, Coal India has formulated following multi-pronged strategies," he said.
Coal despatch to power utilities (including special forward e-Auction) during the year was 425.39 mt, registering a growth of three per cent compared to last year of 413.11 mt. Despatch to NTPC clocked a growth of 4.9 per cent over last year registering a materialisation of 95 per cent against FSA (fuel supply agreement)/MoU commitment.
"But for the regulated intake of coal by many of the GenCos (Generation companies), despatch of coal to power sector could have been higher," Bhattacharya said.
In order to achieve the planned growth in production and evacuation in future, the miner has undertaken three major railway infrastructure projects.
According to the report, Tori – Shivpur-Kathotia new BG Line caters to North Karanpura Area of CCL (Central Coalfields Limited) and it is planned to evacuate about 32 mt of coal in a year once the line comes through.
Jharsuguda – Barpali – Sardega rail link relates to the coalfields of MCL (Mahanadi Coalfields Limited) and the envisaged capacity evacuation is 70 mt of coal in a year from MCL.
East Rail Corridor and East West rail corridor was planned for evacuation of coal of Mand- Raigarh and Korba – Gevra Coalfields of SECL (South Eastern Coalfields Limited) respectively. In all, about 180 mt of coal in a year shall be evacuated through these two corridors.
Bhattacharya said, a total of 3826.19 hectares of land has been taken into possession during 2016-17 in various subsidiaries of Coal India.
CIL has also planned to set up 22 new washeries and renovate 5 existing coking coal washeries with state-of-the-art technologies in the field of coal beneficiation with an aggregate throughput capacity of 123.68 mt in a year.
"Out of the 22 new washeries, 13 are planned to wash coking coal with a cumulative capacity of 41.35 mty (million tonnes a year), 4 of which are at different stages of construction and LOI (Letter of Intent) has been issued for one. For remaining 9 new non-coking coal washeries with a total capacity of 75.5 mty, LOA/LOIs has been issued for three," the report said.
According to the report, the miner in view of Paris Protocol and consequent changes in world energy scenario is looking forward to diversify its operations towards renewable energy like solar power and clean energy sources like coal mine methane, coal bed methane, coal to liquid and underground coal gasification etc following the central government's directives.
"Following that mission, MoC/CIL (Ministry of Coal/ Coal India Ltd) is in the process of formulating Vision Document 2030 to decide future course of operation for sustainable entity in the nation's energy sector," the report added.
The estimated geological resource of coal in India stood 315.149 billion tonnes as on April 1, 2017.
Source-ET