JSW Steel, Piramal Enterprises eye joint bid for stressed assets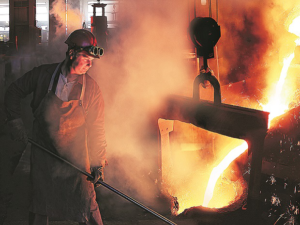 Sajjan Jindal-controlled JSW Steel is in discussion with Piramal Enterprises for a partnership that could result in a joint bidding of assets currently going through the insolvency process.
According to the contours of the arrangement, Piramal Enterprises would provide the funding and JSW Steel the management to the assets once they come up for bidding.
JSW Steel is interested in bidding for stressed assets in the steel sector. Jindal's son, Parth Jindal, recently said in Kolkata, "We are very keen on Bhushan Steel and Monnet Ispat. At the right price, even Essar would be attractive."
Ajay Piramal, chairman, Piramal Enterprises, had told Business Standard earlier this week that besides the joint venture with Bain Capital Credit India Investments for the asset reconstruction business, the company would get into a strategic partnership with other industry experts.
"These partners would bring in the expertise as well as the funds. I can see that the Reserve Bank of India (RBI) and the government are determined to see that a resolution takes place. So, we will participate in this process. In some specific cases, we will also get into a partnership with the other industry experts. In this financial year (FY18), we can look at about two deals consummating, as they take a lot of time. You have to study them, turn them around and negotiate with the banks and the promoters," Piramal explained.
Piramal said he was interested in the steel, auto component, cement, pharma, chemical, and infrastructure sectors, but he did not specifically mention any names to acquire or partner with.
In response to a specific query on the proposed JSW-Piramal Enterprise tie-up, a Piramal group spokesperson said, "We do not comment on market speculation." An email sent to JSW Steel went unanswered.
Before the insolvency process started for the 12 companies under the RBI directive, JSW Steel had bid for Monnet Ispat & Energy, one of the first companies in which lending banks had converted their debt into equity as part of the strategic debt restructuring. However, lenders found the haircut implicit in JSW Steel offer too steep and didn't take a call. For Bhushan Steel too, JSW had approached lenders with an offer for a debt takeover of Rs 20,000-22,000 crore, earlier this year.
These proposals, however, now stand null and void, as both companies are going through the insolvency process under the Insolvency and Bankruptcy Code. Once the information memorandum is prepared, the resolution professionals in the respective companies will be inviting bids for these companies. JSW would have to make a fresh attempt then. An acquisition would bring JSW Steel closer to its target of achieving an annual capacity of 40 million tonnes over the next decade.
At present, JSW Steel's capacity is at 18 million tonnes a year. While Bhushan Steel has an annual capacity of around 5.6 million tonnes, Monnet has a capacity of 1.5 million tonnes, and Essar Steel 10 million tonnes.
Source: Business Standard