Steel firms paying high price for captive iron ore mines to ensure supply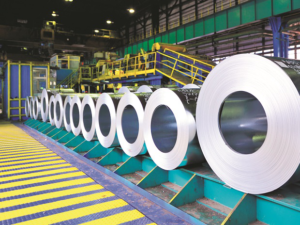 The auction of iron ore blocks in the country has shown steeper competition and higher price bidding for blocks reserved for captive use when compared with those meant for a non-captive purpose.
Five of the nine iron blocks meant for captive use have gone to bidders with quotes of more than 100 per cent revenue-sharing with the states of their location.
Till date, 27 mineral blocks have been auctioned out of which 10 are iron ore blocks. Of these 10 blocks, nine were reserved for captive use while one was earmarked for the non-captive purpose.
Even the single mine meant for non-captive use has been bagged by a steel company (Bhushan Power and Steel) which outbid the merchant miners in the race for Netrabandh Pahar mine.
"This trend shows more strident urgency among steel companies, operating without captive mineral resources, to secure raw material supply compared to merchant miners who only want to get hold of iron ore mines for trading purposes", said an analyst.
More than 75 per cent of the steel capacity in the country is operating by sourcing Iron ore from merchant miners. There are also allegations of cartelisation by few large miners to control price and supply of iron ore in the absence of any provision of indexing /pricing mechanism. This has led to the higher domestic price of ore compared to the international prices even when merchant miners are not able to sell entire ore mined by them.
Out of 194 million tonne production of iron ore in FY17, steel industry consumed 126.67 mt and 25 mt was exported. Balance 40 mt, apparently low-grade ore, has been added to stock at mines head of both captive and merchant miners.
Meanwhile, the aggressive bidding by steel companies for captive mines has debunked the pleas of merchant miners that market prices of ore would be skewed lower and there will be loss of revenue on account of royalty and lower auction money for the state if more number of mines are reserved for captive use.
"On the contrary, the bid price of captive mines has been consistently going up with the steel companies offering to share more than 100 percent revenue from the mine's despatches with the state government in some of the latest auctions. The cost of production in case of captive mining being same as that of a merchant miner, it will have no effect on royalty revenue", said an official of steel company.
Making a case for reservation of more mines for captive purposes, he said, there is no necessity of any iron ore block auction for merchant mining when all the end users including pellet and sponge iron manufacturers are eligible for the blocks reserved for captive mining. "For those who cannot afford to have their own mines or fail to obtain blocks through auction, the state owned NMDC and OMC (Odisha Mining Corporation) can meet their requirement", he added.
From revenue viewpoint, the votaries of captive mining argue that GST collection from steel is 36 times higher compare to setting of iron ore mine of similar capacity (GST on iron ore at 5 percent of sales price being Rs.150 compared to 18 percent GST on steel yielding around Rs 5400.00 per tonne of TMT bar. Besides, the steel industries also pay import duty and IGST on coking coal which is around Rs.1100 per tonne of steel.
"The social return on investment on captive industries is much higher compared to merchant mining on account of employment generation in all value chains-steel based Industries, infrastructures, construction, automobiles etc", the steel company official said.
It may be noted, as per sub-rule 3 of Rule 6 of Mineral (Auction) Rules, 2015, the state government has been empowered to reserve a particular mine for any particular end use including the end use as specified in Schedule II of the Rules and the state government may earmark certain percentage of mines for end use.
Source: Business standard