Spot iron ore continue to gain while futures extended some losses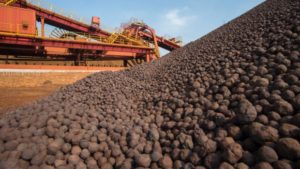 Spot iron ore prices continued to gain in the first week of 2018 as buyers were seemingly restocking ahead of upcoming Chinese New Year in mid-February. There are still many questions around the sustainability of the price rise, due to narrowing steel margins from softer steel demand.
Onto the benchmark prices, Platts assessed the 62% Fe IODEX & TSI Iron Ore Fines at $77.10/dry mt CFR North China Friday, up 65 cents/dmt on the day. Moreover, TSI 58% Fe Fines, 1.5% Al, CFR Qingdao port closed at $61.80/dmt.
Looking at the current sentiments and trends, seaborne market is buoying on the optimistic anticipation of the future demand after winter season. Steel, however, has not fared well as the spot prices for HRC shed 20-30 Yuan/mt during the day while those for rebar tumbled 30-130 Yuan/mt.
Paper trade
Chinese steel and iron ore futures seemingly traded lower towards the end of the week as frigid winter weather curbs the steel demand for construction activities by downstream users.
Steel rebar futures decreased at the same time, with the most actively traded May contract in Shanghai Futures Exchange last traded at Yuan 3,798/mt ($585.07/mt), down Yuan 21/mt on the day, and settled at Yuan 3,791/mt, down Yuan 20/mt over the same period.
Iron ore futures traded on the Dalian Commodity Exchange eased Friday, with the most liquid May contract last trading at Yuan 538.5/dmt ($82.95/dmt), down Yuan 5/dmt on the day, and settling at Yuan 539.5/dmt, up Yuan 0.5/dmt over the same period.