Atlantic met coal prices rise further on limited US spot supply as Florence nears
17-Sep-2018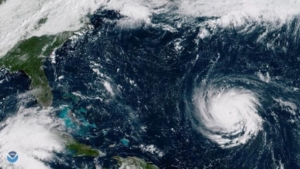 Atlantic metallurgical coal spot prices edged higher Thursday, as Asia-Pacific markets reached a six-month high and limited US coal supplies for spot offers took transactable value higher.
Demand in Asia-Pacific for coking coal is strong. S&P Global Platts assessed Premium Low Vol coal up $6.50/mt to $208.50/mt FOB Australia on Thursday. This further supported US offer levels despite some loosening in expected delays over the next few weeks from the hurricane.
Several mills including two large groups were heard in the seaborne market for November and December spot loadings, as well as 2019 tons.
Several suppliers stated they were unable to offer, with others working out if there was a way to squeeze more tons into sales pipeline by reviewing and adapting production, logistics and inventory plans.
One US coal supplier believed the preference was to do index-linked pricing in spot deals and there was too much upside risk in offering fixed prices so close to cyclone season in Australia.
Earlier fixed price contract business was said to not be repeatable in spot offers, if any material could be offered, owing to the sharp rise in spot indices this week.
One source was eyeing spot pricing at over $200/mt FOB as an indicative fixed value offer, with preference to price off Platts indices.
The lack of spot supply across US met coal brands and grades indicated limited downside pressure for any offers to meet bids, with high substitute delivered prices from the Asia-Pacific region.
Platts assessment of US East Coast low-vol hard coking coal rose $5 to $193/mt FOB, based on 58% CSR and 19% volatile matter material.
Platts US high-vol A index rose $4 to $202/mt FOB USEC, based on 32% volatile matter, 1.1% reflectance straight coal, with low ash and sulfur and CSR typically in the low 60s.
Platts US high-vol B assessment rose $2/mt to $170/mt FOB USEC, based on 34% VM unblended product.
The Premium Low Vol HCC net forward price rose $6.50/mt to $221.55/mt CFR Rotterdam.
Florence Fears
In the US, Hurricane Florence is due to make landfall shortly, and has already disrupted shipping movements and coal dumping at export terminals in Virginia.
Florence may be a lesser force in the Hampton Roads and Central Appalachian areas than first feared, after weakening and changing direction to the South Carolina and North Carolina border. However, its slowdown may bring high winds and persistent heavy rain and flooding to a wider area for longer, and move back north could hit coal country.
The Port of Virginia Thursday said a National Weather Service's tropical storm warning for Southeastern Virginia means the region should see heavy rain and tropical storm force winds lasting from Thursday evening through Saturday morning.
The main shipping channel remains closed at the Virginia Capes and vessels may only enter or exit the port based on exemptions granted exclusively by the US Coast Guard, it said.
"With vessel queues averaging in the mid-teens recently and rail service struggling to keep up with deliveries, it is questionable that the ports would be able to quickly make up any loss," consultancy Wood Mackenzie said in a note.
"The Hampton Roads region is still expected to face some storm surge and unusually high tides as well as associated heavy rains," Wood Mac added. "These factors have some potential to interfere with normal business."
Futures
In the coking coal futures market, the forward curve moved up during the Asian session at the close in Singapore, with 43,000 mt traded during the Asian session on SGX, with 22,000 mt going through in after-hours trade.
September settlements rose $7 to $203/mt, and October added $2 to $203/mt, while Q4 rose $2 to $203/mt.
The Platts TSI Premium Hard Coking Coal reference price, used for settlement of SGX's coking coal futures, was unchanged at $199.30/mt FOB Australia.
The coking coal market may be tightening on slower new supply additions and more frequent disruptions, a buyer said. Buyers may be struggling to replace tons or adapt their purchasing mix due to effect of logistics, geology, weather and import tariffs to coking coal supplies.
The source believed there was more dependence on Australia, as demand for coal qualities increases, especially in India and China, and Canadian and US logistics and higher shipping costs are considered.
US high-vol supply may increase, with a major new project being considered.
A US supplier lamented not having more supply at hand, with 2019 sales planning already well underway. Domestic business is getting finalized and export customers are making requirements known, and more seaborne contract tons are said to price off index.
Source: S&P GLOBAL PLATTS