Shipowners go bargain hunting in the dry bulk sector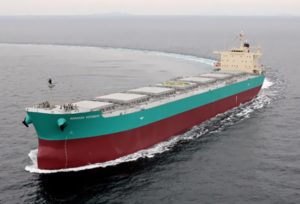 The surge of the dry bulk market has prompted a strong turnout in the secondhand sales ships' market as well. However, with the market quickly transforming itself into a sellers' one, some owners are having to turn their attention to bargain hunting. In its latest weekly report, shipbroker Intermodal said in its latest weekly report that "while the majority of perspective Buyers in the dry bulk second-hand market is currently focusing on modern tonnage, there is also increased activity for older vessels built in the '90s. From a Greek shipowner's perspective, them being most often sellers of such tonnage rather than buyers or even if the time they owned vintage tonnage has long passed, looking into this age segment remains interesting".
According to Mr. Nassos Soulakis, Intermodal's SnP broker, "as you can see from the table above the pool of vessels older than 20 years is still considerable against the entire fleet in each size segment and bear in mind that this pool will be the main source of demo candidates in the near future. A representative example of that is the Handysize segment, where vessels above 20 years will be around 16% of the size next year. With the upcoming regulations scheduled to come into force until 2019, these vessels will most have to exit the market, with a rather small chance of very strong freight rates at the time allowing the retrofitting cost".
Mr. Soulakis added that "as a considerable amount of this tonnage is still controlled by Greeks, one cannot help but wonder whether the sale of these vessels alongside with the renewal of the perspective fleets is a strategic decision that should be made at this stage. Since the beginning of the year Greek owners have been behind the sale of around 20 vessels built in the '90s, with most of them being Handysize and Handymax vessels. We believe that given the Greek percentage of ownerships of such tonnage, there is room for further sales down the line and reinforcement of this trend".
Intermodal's analyst also noted that "with the exception of very few cases of Greeks who are intrigued by the very attractive prices against current employment levels or those who are newcomers to the dry bulk market, usually scaling up from the general cargo range, we could say that most of the 90s built tonnage buyers are Chinese, Middle Eastern, selective few from the subcontinent, Turkish, Russian and Ukrainians".
He went on to mention that "in regards to prices, for a 45kdwt Japanese Handymax, '95 blt someone would set as a price goal at region $4.0m – low $4.0m, with prices adjusting respectively at mid $4.0m – high $4.0m for a '96 blt, region $5.0m – low $5.0 for a '97 blt, mid $5.0m for a '98 blt (SS due 2018) and excess $6.0m for a 99-blt. Respectively, a 70kdwt Japanese Panamax a price goal for a '95 blt vessels would be high $4.0 up to $5.0m, excess $5.5m for a '96 blt, high $5.0 up to $6.0m for a '97 blt, low-mid $6.0m for a '98 blt (SS due 2018) and mid $7.0m for a 99-blt. To conclude, this trend of Greek owners selling older vessels is certainly positive, since most of this tonnage usually ends up in the local market of the respective new owner, effectively reducing tonnage trading internationally, while at the same time the age profile of Greek controlled fleet is getting younger becoming more competitive in international trading", the shipbroker concluded.
Source:  Hellenic Shipping News Worldwide